Wrester Name:The Xtreme Charasmatic Enigma
Nickname:The Xtreme Enigma
Style:Balanced mainly speed
Alliance: Face
Trademarks:The Flaming Bulldog, Modified Diving Headbutt, Enigma Springboard Corkscrew Splash
Finishers:Twist Of Fate, Swanton Bomb, Shooting Star Press
Wrestler Appearance :Long Hair changes colour of it every show
Usualy Black Tank Top
Usualy Black Cargo Pants
Usualy Blue And Black Wrestling Boots
He was born in the mean streets of brookyln trying to make friends not make enemys and fight but after years of being pushed around he couldnt take it any more he had no choice but to fight.
So he decided to join his high schools wrestling team and went to the gym every 3 days,He also made lots of new friends from the school wrestling team.He impressed the wrestling teacher so much that he decided to add him to the town team were they have scouts from small feds from around the country checking some of the wrestlers on how well they perform when in the ring. After a year or so He was then given the name of the xtreme enigma for the moves that he had performed off the top rope which were dangerous and lifethreatning.Then he was given the option to join any local roster that he wanted and found a roster called
Elemental Fire Wrestling which he was interested in so he found the gm who was called kaluani and asked for a shot in the fed and kaluani granted that. All the years of waiting for a place in a fed was now over this wa just the start of the carear of the enigma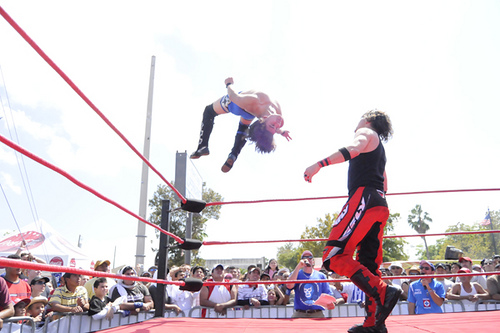 Last edited by The Xtreme Charasmatic En on Sat Aug 01, 2009 9:06 am; edited 1 time in total



Posts

: 2


Join date

: 2009-07-29



may i be the first to welcome you to the EWF (although i here we will be moving up to regional next season so we won't be local anymore) may you enjoy your time here

Also we already have a wrestler who is using Hunt You Down as his theme song sorry but you need to choose another.



Posts

: 166


Join date

: 2009-07-11



thnx 4 tellin me i will change my song ASAP



Posts

: 2


Join date

: 2009-07-29



WElcome to you, nice intro!
I will take care of your card at the beginning of next week, although I don't yet have a clue how to fit your extremly long name on it... I'll figure it out

Greetings,
Kaluani
Admin




Posts

: 515


Join date

: 2009-06-19




---
Permissions in this forum:
You
cannot
reply to topics in this forum